2017.12.08
日本語のみのプレスリリースを読みたい方はこちらのリンクをご覧になってください。
Deliciousness of rice in "Mikawa Mirin" condensed into guilt free sweet
Gelato shop in Kyoto develops "Mirin gelato"
Debuting on 12/7
2017.12.06
14:30
Prema Inc. (Premarche Gelateria)
Prema Inc, a Kyoto based company with years of experience in organic food distribution, also operates a gelato shop named 'Premarche Gelateria' (Location: Nakagyo-ku, Kyoto). The same gelateria has launched a new flavour called the 'The Mariage of Pure Mirin and Litchi gelato' , a flavour full of the natural sweetness and deliciousness of Mikawa Mirin. This flavour is available to customers from 7th December 2017 (Monday) onwards.
Background of the development of ''The Mariage of Pure Mirin & Litchi" Gelato
Japanese ingredient, 'Mirin, is produced by fermentation of glutinous and malted rice along with saccharification of real shochu. 'Mirin' that is used in this gelato is genuine and prepared by the traditional method of fermenting it for a long period of two years in order to bring out its rich and mellow sweetness. As per the alcohol tax, "Pure Mirin" is classified as alcohol, containing around 14% of it, perfected with a texture of alcohol that remains smoothly as compared to that in the commonly used mirin. In a natural food store like this one, the traditional recipe of 'Pure Mirin' is an alternative to sugar and has been sold as a sweetener (due to it containing multiple sugar components) for people who cannot consume sugar. This time, it was Vegan Gelato Maestro ® Mr Nobuo Nakagawa, the Gelaterie (Gelato craftsman), CEO of Prema Inc., who emphasized on the sense of satisfaction similar to genuine sweetness, richness, fresh aftertaste and dessert wine, developing this flavour with mirin as the main ingredient and litchi that is packed with the fragrance of Asian flavours.
Features of 'Mariage of Mirin and Litchi' Gelato
Although thick, this gelato is rich in saccharified rice, leaving a refreshing feeling after eating it. Also, Litchi's exotic aroma and sourness completes the taste in a way that it makes one feel happy all the more. As gelato, it contains 3% of alcohol of the gelato melting limit that just by eating one portion, it is possible for only adults to taste the charm of alcohol in it. Usage of sugar is refrained to utmost limits and the potential sweetness drawn out from the pairing of fermented rice and tropical fruits, makes it worth being noticed as a new guilt free sweet. Furthermore, Premarche Gelateria's alcohol based gelato is characterized by its special ingredients and manufacturing method, producing a smoothness that doesn't leave the impression of stickiness of rice on the tongue at all. It feels like the usual sorbet without the jelly-jelly coldness, creating a delusion as if fat, oil and milk were also added. 'Mirin and Litchi Mariage' was also prepared while keeping in mind about Westerners who prefer noble textures and visit our shop wishing to try vegetarian and Japanese ingredients.
Product Summary
Name: 'Pure Mirin & Litchi Mariage' Gelato
Launch date: 7th December 2017 (Thursday)
Price: 1 flavour, 500 Yen (tax included)
Sales outlet: Premarche Gelateria
---
About Premarche Gelateria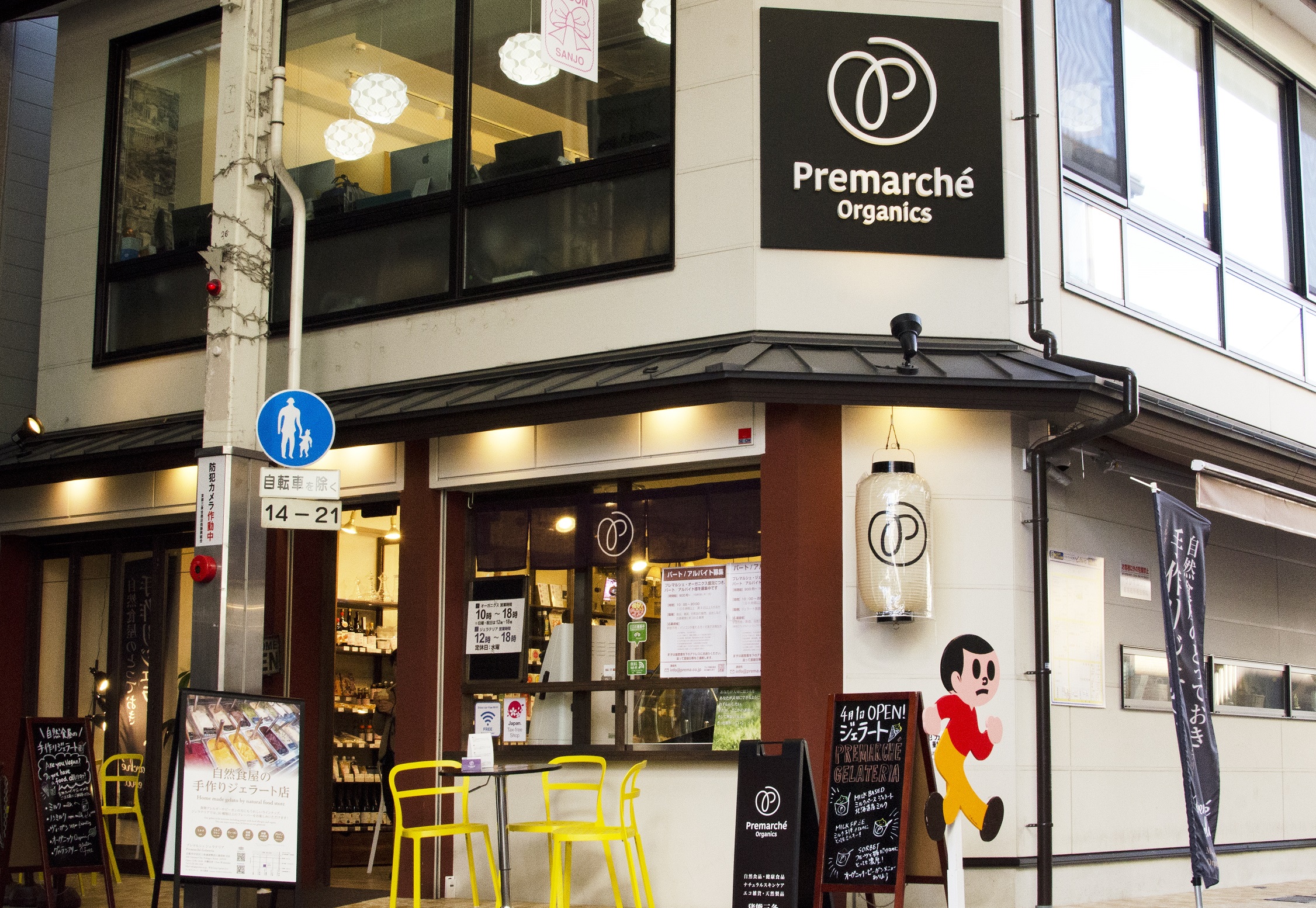 It is a gelato shop managed by the CEO of Prema Inc., Mr Nobuo Nakagawa, who himself studied gelato production in Italy and opened Premarche Gelateria in April 2017. This gelateria doesn't use any imported refined sugar or synthetic emulsifier and continues to develop new types of gelato by using special characteristics of natural foods, constantly offering 46 flavours as of December 2017. Especially their vegan (pure vegetarian) gelato that does not include any dairy or animal products is highly recognized among foreigners visiting Kyoto. At the same time, their vegan gelato is also popular amongst parents and children suffering from food allergies (milk etc).
Official homepage
TripAdvisor
https://www.tripadvisor.jp/Restaurant_Review-g298564-d12292803-Reviews-Premarche_Gelateria-Kyoto_Kyoto_Prefecture_Kinki.html
(Comments from foreigners can be read by setting the language to "all languages")
Company Outline
Business name: Prema Inc.
Shop name: Premarche Gelateria (Gelato)
Representative: Director Nobuo Nakagawa
Location: 308 Sanjodori Inokuma Nishiiru Ontomocho, Nakagyo-ku, Kyoto 604-8331, Kyoto Prefecture
Establishment Date: 11th February 1999
Business Description: Natural food, ecology miscellaneous goods etc. wholesale/retail/trade/manufacturing industry
URL: http://prema.co.jp (company)
        : https://gelato.organic/ (gelateria)
---
Follow us for more:
Instagram: premagelato
Facebook HERE
TripAdvisor HERE
If you like our Gelato or our Gelateria, don't forget to write a review for us on TripAdvisor!
Tumblr HERE
---
1分でわかる
プレマルシェ・ジェラテリア
自然食屋が、そのノウハウの全てを注ぎ込んだ京都のジェラート店
イタリアジェラート協会 国際コンテスト3年連続複数部門受賞
正統イタリアン・ジェラートでありながら、和素材を生かしている
機能素材やスーパーフードを多用し、罪悪感ゼロで楽しめる
日本最大級のヴィーガン、ノンミルクジェラートの品揃え
安価で味の粗いサトウキビ由来の白砂糖は一切不使用
合成乳化剤・合成安定剤、合成食品添加物は一切不使用
主に外国人から特別に高い評価を受け、行列になる日もある
チーフ・ジェラティエーレ(ジェラート職人)は中川信男
前代未聞の「ジェラートのすべてが米素材100%」も各種開発
「食べたら血流が増加する」という公的試験機関データあり
京都でフードバリアを超えるというプロジェクトを立ち上げ
(Beyond "Food barrier"! 参照 )
私たちが作るジェラートは「心の薬である」と真剣に希求