2017.10.06
I feel very lucky to have my internship in nowhere else but Kyoto, where I can experience both the modern and traditional features of Japan.
I had the chance to visit Gion in the evening. There you can find a crowded shopping street on the one side of the Kamo River, and traditional streets with temples and shrines on the other side. It's the best place for shopping, with many traditional wagashi and souvenir shops in a modern setting.
You will also enjoy the pleasant walk along Hanami-koji street from Shijo Avenue to Kenninji Temple, a narrow stone-paved street, with low-rised old wooden houses.
It would be perfect without so many visitors.
Therefore I preferred strolling along the small canals with traditional teahouses and restaurants, where it was more quiet and peaceful. You will find yourself immersed in
a charming atmosphere and picturesque sceneries.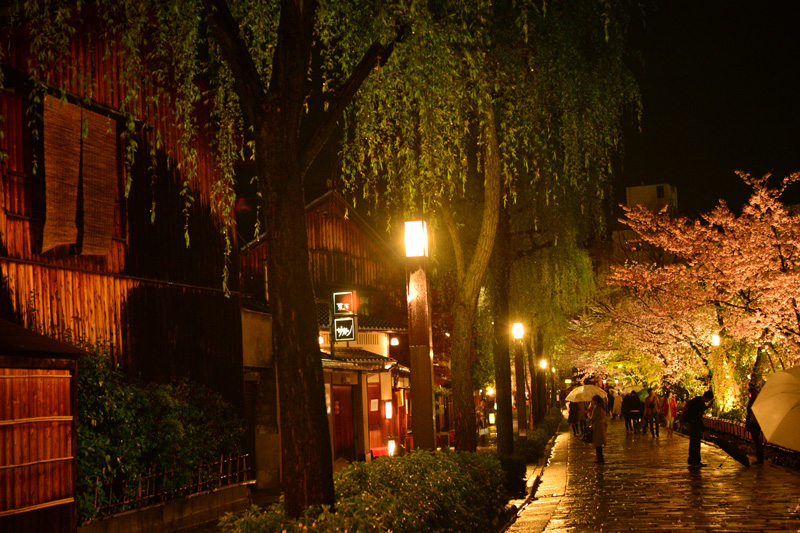 It's so interesting that I can also feel the same combination in this Gelateria.
Gelato is a Western dessert originated in Italia,  but when brought to Japan, we have combined it with Japanese traditional cuisine to create our unique flavors, like Matcha, Hojicha, and soybean products such as Tofu, Yuba (tofu skin), or Kinako  (roasted soybean flour). Trust me, you cannot imagine how amazing these flavors are.
And for gelato fans who haven't known, the Halloween pumpkin and purple potato flavored gelato are now available, so be sure to come and have a taste, and be ready for our next gelato creation.
***
(Vietnamese Translation)
Thật may mắn khi mình được thực tập ở Kyoto, một nơi mình có thể trải nghiệm sâu sắc sự giao thoa giữa truyền thống và hiện đại của Nhật Bản.
Mình có dịp đi thăm khu phố Gion nổi tiếng. Từ chỗ làm, lên tàu Karasuma đến ga Gion, vừa bước ra khỏi ga là bờ sông Kamo hiện ra trước mắt. Thật thú vị khi một bên bờ là khu phố mua sắm sầm uất Shijo Kawaramachi, còn 1 bên là khu phố Gion với những con đường truyền thống của Nhật, những ngôi chùa và đền thờ. Ở đây bạn có thể tìm thấy những cửa hàng bánh kẹo truyền thống và đồ lưu niệm được bày trí theo phong cách hiện đại.
Một trong những địa điểm nổi tiếng ở đây là đường truyền thống kiểu Nhật Hanamikoji, dẫn từ đại lộ Shijo tới chùa Kenninji, được lát đá và dọc 2 bên đường là những ngôi nhà gỗ cổ kính. Dù không phải cuối tuần nhưng ở đây vẫn đầy ắp khách du lịch.
Vì vậy mình thích được lang thang dọc theo những con kênh nhỏ yên tĩnh, nơi ánh sáng đèn từ những nhà hàng và phòng trà cùng với hàng cây dọc theo bờ kênh tạo nên một khung cảnh thật yên bình và nên thơ.
Điều thú vị nhất là khi làm ở Gelateria mình cũng được trải nghiệm sự kết hợp tương tự giữa truyền thống và hiện đại. Gelato là một món ăn của Ý, nhưng khi được đem đến Nhật Bản, gelato được kết hợp với ẩm thực truyền thống Nhật để tạo nên những hương vị độc đáo của riêng vùng đất này. Gelato vị trà như Matcha, Houjicha rất được các khách hàng nữ yêu thích. Mình đặc biệt ấn tượng với những vị làm từ sản phẩm của đậu nành, như Tofu, Yuba (lớp màng mỏng được hình thành trên bề mặt khi nấu đậu nành), hoặc Kinako (bột đậu nành rang). Tới Gelateria và thử ngay thôi nào
Một tin vui cho những người hâm mộ gelato, gelato vị bí đỏ và khoai tím dành riêng cho mùa Halloween đã có mặt tại Premarche Gelateria. Hãy đến để thưởng thức và sẵn sàng cho những sáng tạo tiếp theo của chúng tôi nhé!
1分でわかる
プレマルシェ・ジェラテリア
自然食屋が、そのノウハウの全てを注ぎ込んだ京都のジェラート店
イタリアジェラート協会 国際コンテスト3年連続複数部門受賞
正統イタリアン・ジェラートでありながら、和素材を生かしている
機能素材やスーパーフードを多用し、罪悪感ゼロで楽しめる
日本最大級のヴィーガン、ノンミルクジェラートの品揃え
安価で味の粗いサトウキビ由来の白砂糖は一切不使用
合成乳化剤・合成安定剤、合成食品添加物は一切不使用
主に外国人から特別に高い評価を受け、行列になる日もある
チーフ・ジェラティエーレ(ジェラート職人)は中川信男
前代未聞の「ジェラートのすべてが米素材100%」も各種開発
「食べたら血流が増加する」という公的試験機関データあり
京都でフードバリアを超えるというプロジェクトを立ち上げ
(Beyond "Food barrier"! 参照 )
私たちが作るジェラートは「心の薬である」と真剣に希求